Your Host Scott Weinberg, Esq.
Courtside Radio Show
Scott Weinberg is a former expert guest commentator on Court TV, TruTv and CBS and Clear Chanell Radio for noted cases including People v. Jack Kevorkian, the Jenny Jones murder case, People v. Donald Debolt, (covered nationally by Court TV), and People v. Watts. He is also a regular guest on major stations including ABC, FOX, CBS, WWJ and WJR.
And now, Scott Weinberg brings his expertise in the legal field to Clear Channel Radio with his legal talk show COURTSIDE RADIO on WDFN 1130 AM every Saturday Morning at 10am.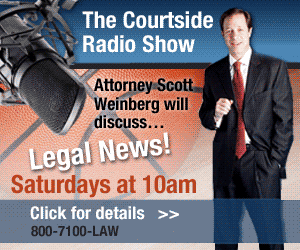 His Radio program "THE COURTSIDE RADIO SHOW" features Weinberg interviewing Govenors, Attorney Generals, Prosecutors, Judges, top Lawyers and other Community Leaders to guarantee that everyone knows the State of their Rights in this great country of ours.
"I love helping people in and out of Court when they get in trouble. When we relate someone's problems to our own life or even a listener on the radio we can help each other through anything!" Weinberg says.
Scott Weinberg Background:
From protecting teenagers who are accused of drug crimes - a permanent record of which could ruin their lives - to protecting celebrities and ordinary citizens in thousands of criminal cases, Scott Weinberg has been the lawyer to turn to when citizens get in trouble for the past 25 years. Name any criminal offense on the books, and Scott Weinberg has defended it.
Scott Weinberg was an Assistant Prosecutor in the Macomb County, Michigan Prosecutor's Office Sex Unit division. (Macomb County is the third largest county in Michigan and encompassed the famous Reagan Democrats.) He joined William Bufalino in a celebrated criminal practice until founding Michigan Criminal Lawyers plc in 1997. He has managed a network of a dozen attorneys throughout Michigan in defending over 6000 clients on every possible type of criminal offenses.
Scott Weinberg is a graduate of the University of Michigan and the University of Detroit School of Law. Scott has been a member of the American Bar Association, Michigan and Illinois State Bar Associations, Macomb Bar Association, Oakland County Bar Association and the Criminal Defense Attorneys of Michigan.
Scott is licensed to practice in the States of Michigan and Illinois.